We arrived at Gatwick airport Saturday morning and drove down to our timeshare in Bude, Cornwall on a beautiful day. Of course, having just spent a short night jammed into a small seat on a big airplane, we weren't in the best shape to enjoy the sights, or to take many pictures. Bude, pronounced more or less like rude, is found on the northern coast of Cornwall. On the map below it is indicated by a green arrow with a yellow line under it.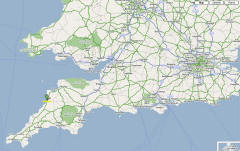 (As is usual, clicking on the pictures enlarges them. Use the back button to return to the page the picture was on)
The roads of rural England are noted for being a bit on the narrow side and in many places in Cornwall and Devon the hedgerow is right beside the pavement, which can be hard on the passenger. There used to be a short video that gave you a feel for the passenger. It seems to have gotten lost. Guess we'll have to go back and shoot anothe one.
We stayed in a nice timeshare that was built on a farm just outside of town. Several of the original buildings had been saved and converted and others added, but built to look as if they were older.
These pictures were taken at the resort:
| | | | | |
| --- | --- | --- | --- | --- |
| | | | | |
| The original farmhouse | | One of the cottages (apartments) | | A pretty view |
| | | | | |
| Reception | | The driveway into the resort | | The Bar and Restaurant |
| | | | | |
| The view from our door | | | | |