Puerto Vallarta 2007
We went to Puerto Vallarta the last week of May and stayed in very luxurious resort named Villa de Palmar Flamingos. Technically, the resort was in Nuevo Vallarta but for simplicity we'll just use Puerto Vallarta to cover the area.
Here are a few pictures.
First, we had a very large suite consisting of a living room, bedroom with two queen sized beds, kitchen and a bedroom with a king sized bed. Both bedrooms had a full (shower and tub) bath and off of the living room which had a Murphy bed, there was a bath with a shower. There was a large TV in each room. We turned one of them on the day we left to find out if the world was still spinning and to get a weather forecast from home.
This is the living room
and our bedroom looking at the large Jacuzzi tub
Each room had a sliding glass door leading to our "porch" (we were on the ground floor all other rooms had a balcony)
this is 2/3's of our porch
and a view from the porch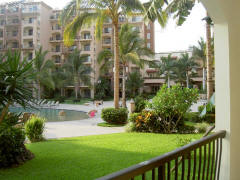 The pool was one of the big attractions here. Here is an overview of the pool area as seen from the 8th floor.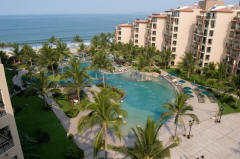 and a couple of shots of the pool from ground level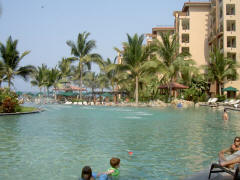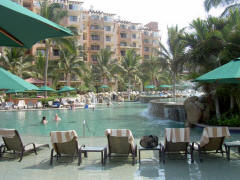 As you can see we were also right on a very nice beach-seen here around sunset
Our second night there (Sunday), they had a Mexican Fiesta dinner on the pool deck. Here we are getting ready for the show
and of course there was a Mariachi band
On Monday night we took a boat ride down to John Huston's former home where parts of Night of the Iguanas was filmed. The place has since been converted to a tourist attraction where you get dinner and a show. The tables were spread out along the beach and hillside so it wasn't crowded.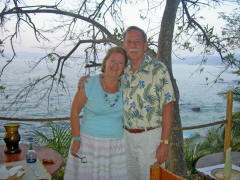 That is our table on the right. We enjoyed the dinner and the show.
Tuesday we went on a tour of the town which included a couple of churches, some shopping, a stop at a tequila factory and lunch. It also included a stop where you can see the remains of the rest of the Night of the Iguana set and get your picture taken with a real Iguana.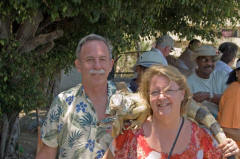 At one stop in the tour downtown we saw some nice sand sculptures like this one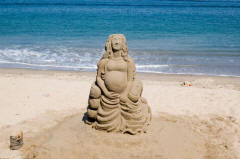 Wednesday, Thursday, and Friday were relax around the pool days..
Jim and Gail Pattison