Christmas Cruise 2005
After spending a week with the kids in Orlando we thought that spending five days on a cruise ship would be a good way to relax over Christmas. Our cruise left from Miami on the 24th and returned on the 29th with stops scheduled in Grand Cayman and Jamaica. Our visit to Grand Cayman got canceled by weather but we did have a good time in Jamaica and on the ship. Here are a few pictures.
Dressing up for Christmas eve dinner, the first night of the cruise.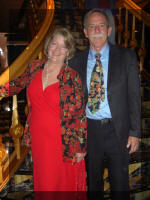 Island fever
At one of the evening shows
A couple of pictures from around the ship
Lifeboat drill
Miami in the rear view mirror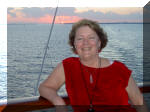 Jamaica
We had a lot of fun climbing the Dunn River Falls-one of Jamaica's must do things for tourists.
While in Jamaica we also had time to see the dolphins and go to the beach
We had a good time on the cruise and hope you enjoyed the pictures.