Cruise 2007
This year we decided to do our normal New Year's day get together with the Moes a couple of weeks early so we went on a cruise together in mid-December. Miami to Miami with stops in Half Moon Key, St. Thomas, San Juan, and Grand Turk.
Here we are doing the lifeboat drill
Half Moon Key, in the Bahamas was our first stop, the first day of the cruise. Since both Gail and Chris had pedicure appointments and because the seas were a bit rough, we opted to stay aboard so this is what Half Moon Key looks like from the ship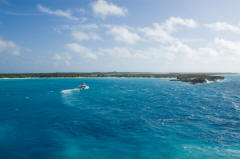 Next stop was St Thomas in the Virgin Islands.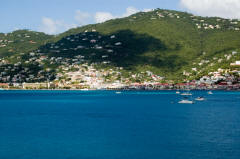 Chris opted to stay on the ship and Tom walked into town with us but decided he wouldn't stay to help us shop. This was taken near the head of the pier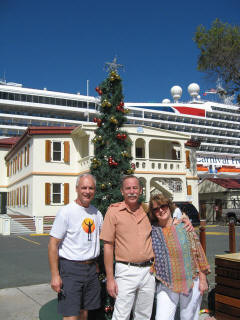 A short overnight run brought us to San Juan, Puerto Rico. Here Gail and I had a mission: get a taxi and go to Humacao, about 25 miles away, find Ryder Hospital, find the Chapel, and take a picture of the plaque with her Grandfather's name on it. He was a missionary there many years ago and helped raise the money for the hospital. Step one was hard, the taxi drivers were on strike. Fortunately, it was a symbolic strike, we had to walk a couple of blocks and a cab driver would pick us up out of sight of the others. On to Humacao. Our cab driver only had to stop once for directions in order to find Ryder Hospital. And there it was easy to find the Chapel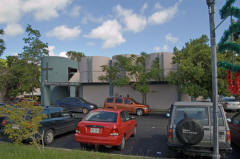 . It was a lot harder to find someone who could explain to us that the old chapel had been torn down when the hospital was enlarged. Plaque? ¿Quien Sabe? Shrug Maybe we will find it and we will call you. Oh well. So we offered to take our cabbie to lunch if he would take us to real Puerto Rican place where tourists were never seen. We had in mind some small village cafe. He had in mind a fancy restaurant where the movers and shakers ate lunch. He was driving. We were paying. We had Mofongos and having done that we can say we have done that. As result or our mission, we saw none of the tourist attractions. Here is San Juan as we left it
Grand Turk was our last stop and it was a brief one. However, it had one thing going for it. A very nice beach at the head of the pier. Grand Turk as we approach the pier
On the beach with our ship in the background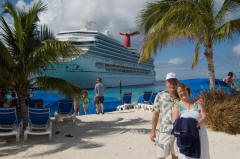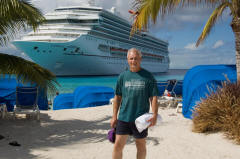 We had two formal dinner nights on the ship. This was on the first one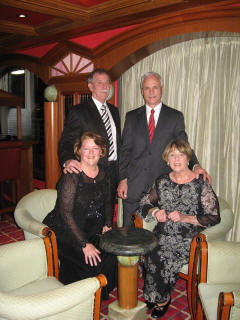 and the second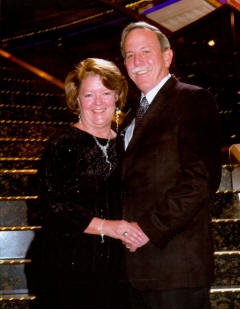 It was a great week and we are looking forward to our next cruise.
Jim and Gail Pattison