Our old pickup camper was starting to have mechanical and structural problems and we are less agile than we used
to be (important when you are camping with two large dogs that take up most of the floor space. So we decided to
get rid of it and get a replacement. Given the floor space constraints we decided to get a medium size motor home.
After a bit of shopping around we found one that we liked, a 2015 Sunseeker 2900. It just under 30 feet long and has
no slideouts which means it is lighter and we don't have to worry about slideout problems. To help us get used to it
we took it on two short trips, two days at the beach and 4 days in North Cascades National Park and a couple of
National Forests.
Here are some pictures.

The camper as it appeared on the dealers
lot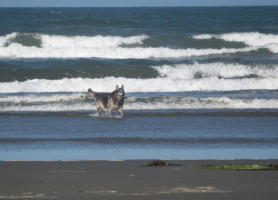 Our dogs enjoying Copalis Beach
The image on the left shows the
interior when we bought it. On the
right, the way it looks today. The
uncomfortable couch is gone and
replaced with two chairs. The
purple mat on the floor is a thick
yoga mat which makes life easier
on the dogs.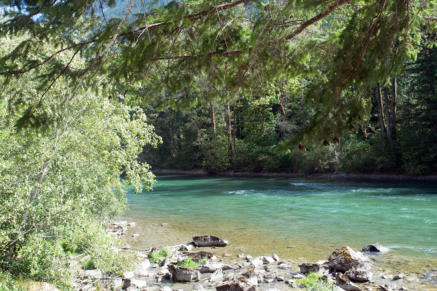 In Newhalem Campground, North Cascades NP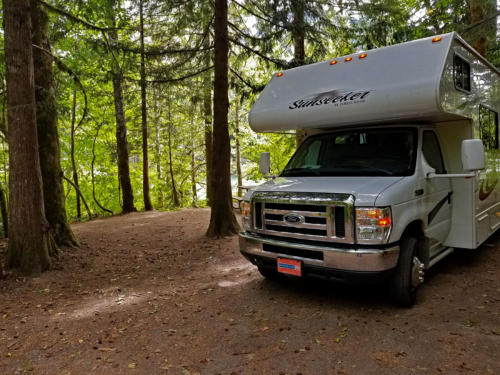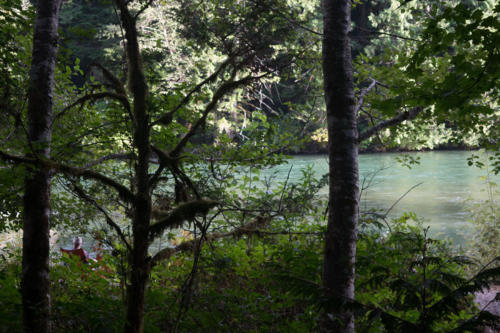 In Goodell Campground North Cascades, NP with the
Skagit river in our back yard
Our neighbors (i n the campground) enjoying dinner by the
river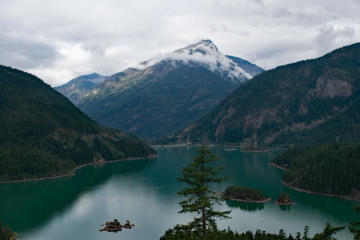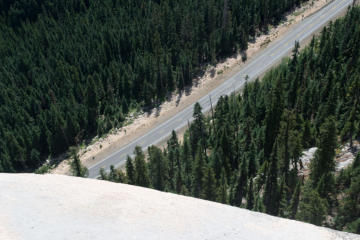 The view from Washington Pass overlook. Yes, there
is a railing between me and the edge of the rock.
Also from the Washington Pass
Overlook.
Klipchuck campground Okanagan National Forest
The view from behind the camper. That
is Early Winter Creek down there.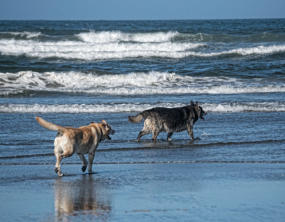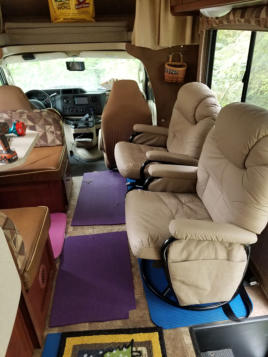 In early October we took the camper out for one more short trip to the coast. The first night we stopped at
Eagles Nest in Ilwaco and then went down the Oregon Coast.
We had sunny weather but with a good
sized surf and onshore breeze there was a
lot of moisture in the air.
Our next stop was Beachside State Park.
Aptly named. Our camper is under those
wind blown trees.
That evening we went out to dinner in Yachats
and enjoyed a good dinner and a great sunset.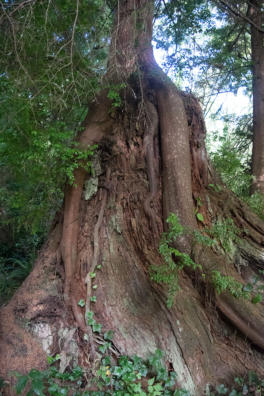 Next up, Umpqua Lighthouse State Park. On the left
the view of Lake Marie from our camp site. On the right
another view of the lake which has a nice 1 mile long
path around it. Below is a relatively young tree
growing on top of a very old stump. On the Lake Marie
loop trail
The lighthouse (only one on the Oregon
coast with both red and white flashes)
and our camper parked across the street
from the light.