A couple of views of the resort we stayed at, Divi Little Bay. That is the Little
Bay on the right of the left hand picture. Big, or Great Bay is on the left
Our first fun thing (besides going to the pool and eating) was to go out with an outfit called Rhino Excursions. Each couple gets one of these
cool little boats. A guide leads the parade (there were three boats when we went) out of Simpson Bay and up the coast to Creole Island, a
French protected area, where we snorkeling. The trip was about 8 miles each and these little boats could move!. It was a lot of fun.
A short video Gail shot on our return trip. Gives you some
idea of how fast these boats ran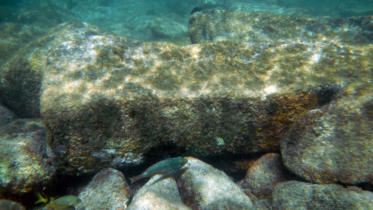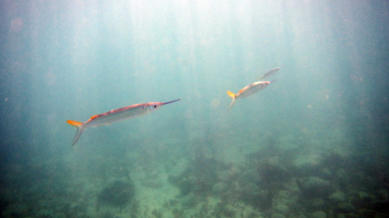 Our second fun activity was to ride a zip line from near the top of the mountain on the left down to a place out of sight in the
picture. The steepest zip line in the world, or the Caribbean, or something. We rode a pair of lifts up to the to the top.
And here we are zipping down
A video I shot as we came down. It goes a bit crazy at the
end because I let go of the camera to hold on with both
hands for the landing
A few pictures from the top of the mountain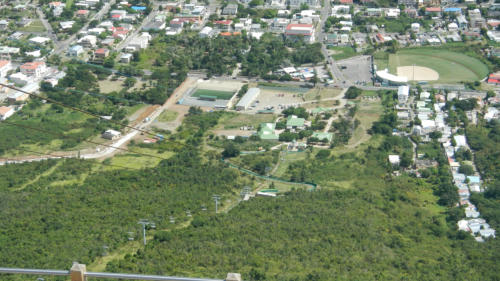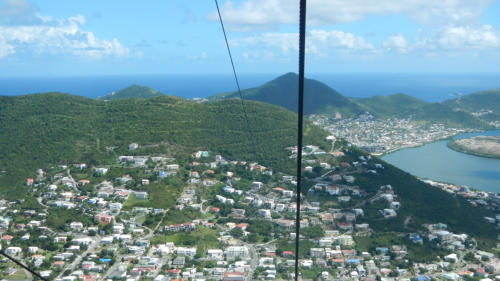 Gail getting ready
to go and looking
down the wire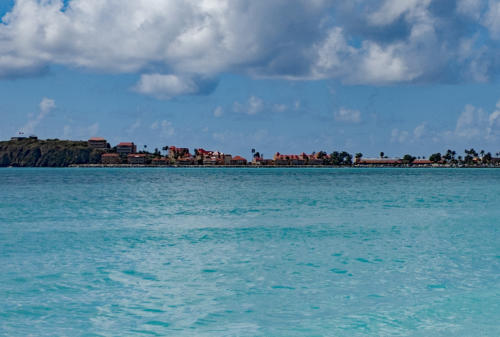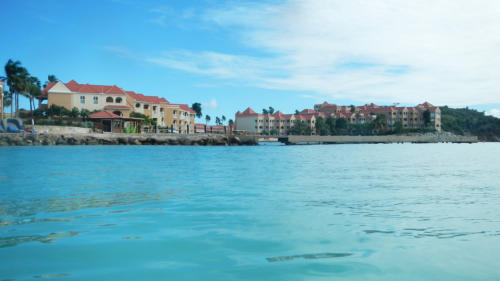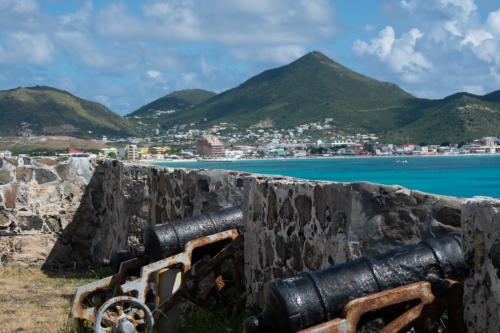 A few more pictures of and around the resort
As seen from the head of Big Bay
The remains of Fort Amsterdam are at the end of the peninsula
that the resort is on. This looks up Big Bay to Philipsburg, the
capitol of the country.
A couple of shots taken while swimming off the beach.
Two of Big Bay looking toward Philipsburg from our balcony. The one on the right is a panorama that put this bend in the seawall
while being made. In actual fact, the seawall is straight. On the right hand edge of the picture you can see two cruise ships moored in
the harbor. I think that there were two different ships over there every day of the week.
And finally, some sunsets.