We left Minnesota in the evening of the 24th of June, spent a short night on the plane flying to Amsterdam and then spent a long five hours there waiting for our next flight into Milan. From Milan we drove a couple of hours up to Aosta in northern Italy, not far from the French border where we ate our first Italian meal and crashed.
The next day we drove through the famous Mt. Blanc tunnel into France. Here are a couple of pictures of the mountain which we drove through.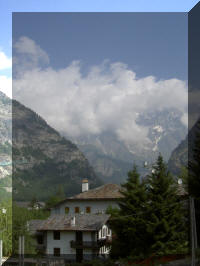 As seen from the Italian side.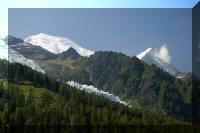 and from the French side.
From there we drove up to Geneva to see Jeff and Cecily Beard. Cecily took us on a tour of Geneva before cooking us a great dinner. This is the way to start a vacation.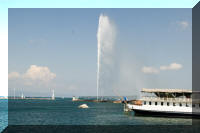 This is the start of the Rhone River.
Continued on Page 3