Note: all photos will enlarge if you double click on them.
Maps (there are 3) can be opened by clicking on Map at the top and bottom of each page.
The Map will be in it's own window so you can leave it open while reading.
We flew into Rome on a bright Sunday afternoon. After a nap, we wandered around the Roman Forum area, ate dinner in sight of the Coliseum, and then spent a solid 12 hours getting over jet lag.
Monday we drove to Positano, on the Amalfi Coast, in our trusty Renault Clio. A small (smaller than a VW Beatle) car with 4 doors and a 1.2 liter engine. In spite of it's diminutive size, we cruised the AutoStrada at 130-140 kmph (that's about 80-85 mph). In Positano we stayed at the La Fenice bed and breakfast. We had stayed here five years ago and couldn't wait to come back. This is the view from our room.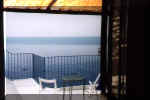 Additional pictures of La Fenice can be found on our Italy page. The town of Positano climbs the cliff as you can see here.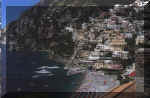 One of the attractions of the Amalfi coast is small beaches and clear water.
Tuesday was a lie around the pool day. Wednesday we drove up north of Naples to see my old landlord and arrange a Sunday lunch, more on that later. Thursday we drove down to Vietri for pottery shopping and Paestum for history joining us was a pair of interesting women we met at the breakfast table. It was an enjoyable trip except the photo opportunities at Paestum have been severely reduced since they are repairing the two larger temples. Gail, ever the teacher, had me video the repair work since she figured it might be handy in some class some day.
After four relaxing days we moved north to Formia, where we lived in 1989-91. We stayed in the Hotel Castello Miramare which probably wasn't really a castle but was a large family villa high on the hill overlooking Gaeta Bay. The hotel has only 11 rooms so you get to know most everyone on the staff. It also has a great restaurant. All of the rooms are on the top floor with the small windows.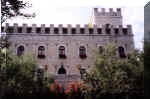 Our room had the pair of windows over the balcony in the center. Our first night in Formia we ate dinner there on the balcony. What a great view! This picture is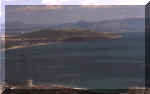 from our room looking out over the bay. Our old house is the white dot in the middle of the dark green. Other photos of it can be found by clicking here.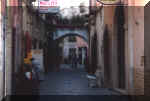 This small alley, lined with shops is found in Gaeta, the next door neighbor of Formia. Americans who live in the area call it "Piccolo Alley". Technically it has another name but who cares?