Italian Photos
page two
I lived in Monte di Procida for a year. This picture, which I found on the web, was taken from just above my house.

Looking about 90 degrees to the left of the picture above, is this view from my apartment.
Check out Paestum, an old Greek city just south of Naples. This picture is from Paestum
Unfortunately, they now have fences or barricades around the temples so they don't photograph as well and you can't walk through them as easily.
Cumae was the first Greek settlement on the mainland near Italy.
The Sybil lived in an interesting cave there.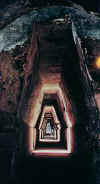 Also south of Naples is the Amalfi coast, scene of many movies and one of our favorite places to visit, in part because you can stay in a B&B with a view like this,
and a pool like this..
This is La Fenice in Positano.
You can also eat in restaurants with views like this
in Ravello.
An Italian photo show wouldn't be complete without a street scene or two.