On leaving Yellowstone we had just a short hop down to Grand Tetons National Park.
For the most part we had great weather, but we did have this one rainstorm sweep through the area producing some interesting pictures. We spent two days in the park and one of the highlights was a rafting trip down the Snake River ( a very calm river there in the park).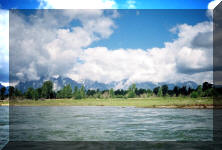 From Wyoming we moved into southern Idaho for a stop at Craters of the Moon National Monument. Camping on volcanic gravel is a bit different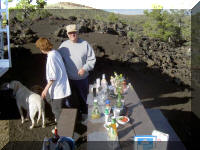 Chancy, in particular did not enjoy it. It is tough to be a white dog in black gravel and dust. However, for those interested in seeing what a relatively recent volcanic flow looks like, Crater of the Moon is a very interesting park.
After a quick stop at Jackpot, Nevada for dinner, gambling, and another sticker on the back of our camper, we returned to Idaho to stay at Bruhner Dunes State Park. This dune holds some claim to distinction-largest of its type or something. Gail and I tried valiantly to get a dramatic, near sunset, picture of this dune but didn't succeed.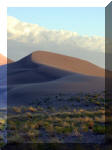 Gail came the closest with this shot,
but she said she liked this one better <g>