Italy
Map
This year we decided to play tour guide and so we visited those places we knew. Those with good memories will recognize many of the stops as being ones we did in 2000.
The first stop was Positano and one of our favorite Bed and Breakfast's, La Fenice. This was our third visit there and we stayed for four nights.
Here is Teresa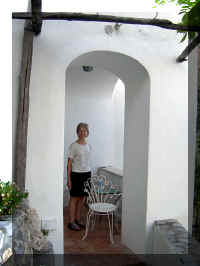 standing on their private patio.
The view from the breakfast terrace
and the terrace itself.
The pool, some 200+ steps below the breakfast terrace
Alison shopping in Positano.
The four of us eating at one of our favorite restaurants on our first night in Italy, still suffering from jet lag.
Additional pictures (and one duplicate) can be found one one of our Italian pictures page and on our vacation 2000 page.